Stevenson In Our Community
A vital part of RLSM's mission is to share and promote Robert Louis Stevenson's legacy.  To do this we have created a variety of ways the community can experience Stevenson beyond visiting us!
Whether you're interested in having a presentation to your club or want to gain experience by volunteering, there are many ways to enjoy the Stevenson legacy.
---
Offsite Lectures
Besides offering regular lectures at the museum, RLSM is happy to provide a guest speaker to your club, organization, or group.   Currently we have four prepared lectures which are richly-illustrated are customizable.  Just let us know what your group is interested in and how long the presentation should be, and we will create a custom Stevenson experience for you!  More Info.
---
Classroom Presentations
Would you like your class to experience the RLS Legacy but are unable to come by the museum for a field trip?  Well, you're in luck.  RLSM will happily work with you to have a staff member or trained docent bring hands-on learning into your classroom – for FREE.
Just contact us to discuss how we can best fit in with your teaching plans!
---
Volunteerism
A rewarding experience.  Knowing you are giving back to your community while at the same time gaining new skills and new relationships.  Volunteering is a two way street, and RLSM endeavors to always provide fun, fulfilling and educational opportunities for those generous enough to choose to spend their time with us!  Learn more.
---
Community Event Participants
Be sure to look for us at these annual local events:
Northern California Pirate Festival, Vallejo
Held every Father's Day weekend (June), this is the largest gathering of pirates west of the Mississippi.  Come join the fun by visiting our pop-up museum booth while you're there, or better yet why not volunteer with us to man the booth and get into the festival for free?!
Scottish Highland Gathering & Games, Pleasanton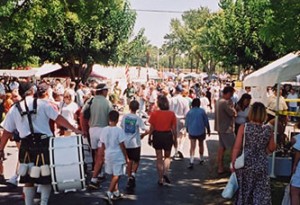 Held every Labor Day weekend at the end of summer, this is a historic gathering of Scottish culture in the Bay Area which began back in 1866!  Find RLSM in the Clans area, where we are generously given space under San Francisco's St. Andrew's Society's tent.