About the Robert Louis Stevenson Museum.
It is the mission of the Robert Louis Stevenson Museum to connect the human experience with the works and times of Stevenson.
We are a community resource, both locally and globally, dedicated to connecting people with Stevenson, his works, and his legacy to literature.
History of the Museum
The Robert Louis Stevenson Museum opened its doors to the public on 14 December 1969. It was the physical realization of a dream of one of America's foremost bibliophiles, Norman H. Strouse. As a young man, Mr. Strouse came across John Henry Nash's fine press first edition of The Silverado Squatters, read it with enthusiasm, visited the site of the Silverado bunkhouse, and became an ardent Stevenson collector.
When Mr. Strouse retired as Chairman of the Board of J. Walter Thompson Company, he and his wife, Charlotte, retired to St. Helena, where they established a foundation to provide funds for a museum devoted to the life and works of Robert Louis Stevenson. Mr. Strouse gifted his personal collection of Stevensoniana, one of the finest in private hands, and this became the nucleus of an ever growing collection.
In May 1979, the museum moved to more spacious and permanent quarters in the new St. Helena Public Library Center, where it erected its own wing at its own expense. Here visitors of all ages can learn about RLS and enjoy this unique window into his life and times.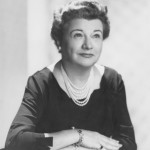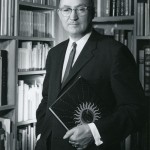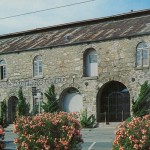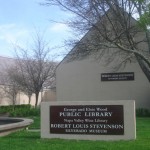 ---
History of the Collection
The core of the RLSM permanent collection was developed by museum founder Norman H. Strouse, whose vision was to have a representative collection of Stevensoniana that would allow interpretation of Stevenson's life, times, and works. These three areas of focus continue to be the core of RLSM's collecting policy.
The strong provenance to Robert Louis Stevenson of so much of the collection is the foundation of its international importance. Over the years, Norman H. Strouse and various direct heirs of the Stevenson family have provided the majority of this material. The largest of these include:
The Norman H. Strouse Collection | The Angel Collection | The Austin Strong Collection
---
The Norman H. Strouse Collection
The original 800 item collection of the RLSM was the personal collection of the museum's founder. It largely consisted of various editions of Stevenson's works, books and articles about Stevenson, part of Stevenson's personal library, original letters and manuscripts by Stevenson and his family and friends, and a limited amount of memorabilia.
Even after RLSM opened, Strouse continued expanding the collection through his purchases at auctions and private dealers, as a large amount of Stevensoniana had been auctioned by the Stevenson family in 1914 and had well documented provenance. Eventually this collection would also include hundreds of photographs, fine California landscape paintings from the late 19th century (by artists such as William Keith, Thomas Hill and Virgil Williams), personal items belonging to Stevenson and his family, commemorative postage stamps, etchings, watercolors, rare first and fine-press editions of Stevenson's works, and more.
---
The Angel Collection
Hundreds of items acquired from Margaret "Angel" Bailey, who was Isobel Field's personal assistant and caretaker at the end of her life. Isobel (née Osbourne) Field was Stevenson's step-daughter who lived with the family while in the South Seas. She and her son Austin Strong inherited much of the Stevenson family possessions after Stevenson's wife Fanny died in 1914.
This collection contains a large volume of papers and photographs from Isobel Field related to her life and Stevenson's (she had published a well received autobiography in 1937 which concluded just after Stevenson's death), several books, pieces of artwork by Field and others, and most spectacularly, family scrapbooks created by Field and her parents which together contain hundreds of photographs, artwork, letters, and some manuscripts.
---
The Austin Strong Collection
Austin Strong was Isobel Field's son, who lived in Samoa with the Stevenson family as a boy, and was legally adopted by Stevenson after Isobel divorced. Strong went on to inherit much of the Stevenson family material, which he moved to his Nantucket house. He eventually became a successful playwright, whose work Seventh Heaven won the first Academy Award for Adapted Screenplay.
This collection originates from Strong's heirs, both friends and family. It includes a collection of important Stevenson family scrapbooks, as well as many personal belongings of Stevenson – from his household furnishings (bookcases, writing desk, paintings, sculptures, vases, etc.), to the family silver, his childhood toys and sole attempt at woodworking, his camphor travel chest, over 100 books from the family library in Samoa (including Stevenson's father's notebooks on civil engineering), and similar belongings.