Stevenson in his Time
Robert Louis Stevenson achieved critical and popular acclaim during his lifetime, with five works in particular: Treasure Island (1883), Strange Case of Dr Jekyll and Mr Hyde (1886), Kidnapped (1886), The Master of Ballantrae (1889), and Catriona (1893).  At the time of his death in 1894 his popularity was undisputed, as evidenced by this notice in The Illustrated London News, Dec. 22, 1894: 769:
"He is gone, our Prince of storytellers—such a Prince, indeed, as his own Florizel of Bohemia, with the insatiable taste for weird adventure, for diablerie, for a strange mixture of metaphysics and romance."
Stevenson corresponded with and was admired by other authors of his time, including Henry James, J.M. Barrie, George Meredith, and Sir Arthur Conan Doyle.  Other authors who admired him greatly but with whom he didn't enjoy a personal relationship included Jack London and Rudyard Kipling.  He was equally admired by critics until about 1914, with the first chairs of the English departments at both Oxford and Cambridge Universities enthusiastically proclaiming his quality as an author.
Unfortunately for Stevenson, the virtuosity of language and variety of genre in which he created became less an attribute and more a point of criticism in the age of Modernism. Though he had some detractors during the period before 1914, the negative criticism began to outweigh the positive.  E.M. Forster, Leonard and Virginia Woolf, and H.L. Mencken all associated Stevenson with outmoded Victorian thinking, and as a result, he was excluded from the "canon" established by F.R. Leavis during the mid twentieth century.  He didn't appear in the Norton Anthology of English Literature until 2006, in their eighth edition.  Even as late as the 1970's, he was under attack as a "second-rate" writer.
---
Notes
The first important general assessment of Stevenson's work came from William Archer, in his article "Robert Louis Stevenson: His Style and His Thought" from the Times (November 1885).  The beginning of which reads: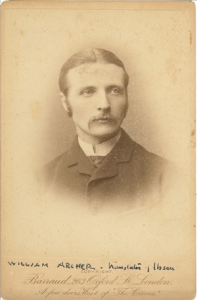 "In the front rank of our new school of stylists, Mr. Robert Louis Stevenson holds an undisputed place. He is a modern of the moderns both in his alert self-consciousness and in the particular artistic ideal which he proposes to himself. He is popular, not, perhaps, with that puff-bred vogue which draws elbowing crowds to Mudie's counters, but with the better popularity which makes his books familiar to the shelves of all who love literature for its own sake. Now, to love literature for its own sake implies a mental habit, which is, perhaps happily, unknown to the many, even to the educated many. To be less concerned about what a man says than how he says it is unutilitarian, unprogressive, not to say reactionary; for the world is not to be regenerated by a nice arrangement of epithets. Mr. Stevenson, however, is not only philosophically content, but deliberately resolved, that his readers shall look first to his manner, and only in the second place to his matter. He has committed himself to the explicit assertion that there is indeed only one merit worth considering in a man of letters – that he should write well; and only one damning fault – that he should write ill."